Amyloid β-Peptide (10-20) (human)
在阿尔茨海默病中引发神经退行性病变。
Sample solution is provided at 25 µL, 10mM.
质量控制
化学结构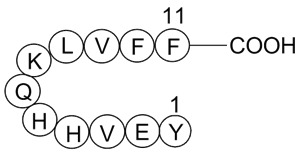 化学性质
CAS号
152286-31-2
SDF
Download SDF
别名
Tyr-Glu-Val-His-His-Gln-Lys-Leu-Val-Phe-Phe
化学名
Amyloid β-Peptide (10-20) (human)
SMILES
CC(C)CC(C(=O)NC(C(C)C)C(=O)NC(CC1=CC=CC=C1)C(=O)NC(CC2=CC=CC=C2)C(=O)O)NC(=O)C(CCCCN)NC(=O)C(CCC(=O)N)NC(=O)C(CC3=CN=CN3)NC(=O)C(CC4=CN=CN4)NC(=O)C(C(C)C)NC(=O)C(CCC(=O)O)NC(=O)C(CC5=CC=C(C=C5)O)N
分子式
C71H99N17O16
分子量

1446.67

溶解度
≥144.7mg/mL in DMSO
储存条件
Desiccate at -20°C
物理性状
A solid
运输条件
试用装:蓝冰运输。
其他可选规格:常温运输或根据您的要求用蓝冰运输。
一般建议
为了使其更好的溶解,请用37℃加热试管并在超声波水浴中震动片刻。不同厂家不同批次产品溶解度各有差异,仅做参考。若实验所需浓度过大至产品溶解极限,请添加助溶剂助溶或自行调整浓度。
产品描述
在阿尔茨海默病(AD)中,β-淀粉样蛋白(Aβ)可以引发神经退行性病变 1。在非正常生理条件下,由β淀粉样前体蛋白(β-amyloid precursor protein,APP)水解产生,是一种分解代谢副产物2。
Aβ是许多不同受体和其它分子的配体3-5,通过复杂转运通路在组织和血脑屏障中运输。Aβ响应于各种不同的环境压力,能够诱导促炎活性7。
可溶性β淀粉样多肽片段是明胶酶A/ IV型胶原酶/MMP-2及APP分泌酶的底物,作用于Lys16和Leu17之间,使蛋白断裂。
Figure1. Structure of Amyloid β-Peptide
参考文献:
1. Small, D.H., Mok, S.S. & Bornstein, J.C. Alzheimer's disease and Aβ-toxicity: From top to bottom. Nature Rev. Neurosci. 2, 595–598 (2001)
2. Soscia SJ, Kirby JE, Washicosky KJ, Tucker SM, Ingelsson M, Hyman B, Burton MA, Goldstein LE, Duong S, Tanzi RE, Moir RD (2010). Bush, Ashley I.. ed. The Alzheimer's Disease-Associated Amyloid β-Protein Is an Antimicrobial Peptide. PLoS ONE 5 (3)
3. Le Y, Gong W, Tiffany HL, Tumanov A, Nedospasov S, et al. (2001) Amyloid (b)42 activates a G-protein-coupled chemoattractant receptor, FPR-like-1.J Neurosci 21: RC123.
4. Koldamova RP, Lefterov IM, Lefterova MI, Lazo JS (2001) Apolipoprotein A-I directly interacts with amyloid precursor protein and inhibits Ab aggregation and toxicity. Biochemistry 40: 3553–3560.
5. Maezawa I, Jin LW, Woltjer RL, Maeda N, Martin GM, et al. (2004) Apolipoprotein E isoforms and apolipoprotein AI protect from amyloid precursor protein carboxy terminal fragment-associated cytotoxicity. J Neurochem 91: 1312–1321.
6. Tanzi RE, Moir RD, Wagner SL (2004) Clearance of Alzheimer's Ab peptide: the many roads to perdition. Neuron 43: 605–608.
7. Paris D, Town T, Parker TA, Tan J, Humphrey J, et al. (1999) Inhibition of Alzheimer's b-amyloid induced vasoactivity and proinflammatory response in microglia by a cGMP-dependent mechanism. Exp Neurol 157: 211–221.