Sample solution is provided at 25 µL, 10mM.
质量控制
化学结构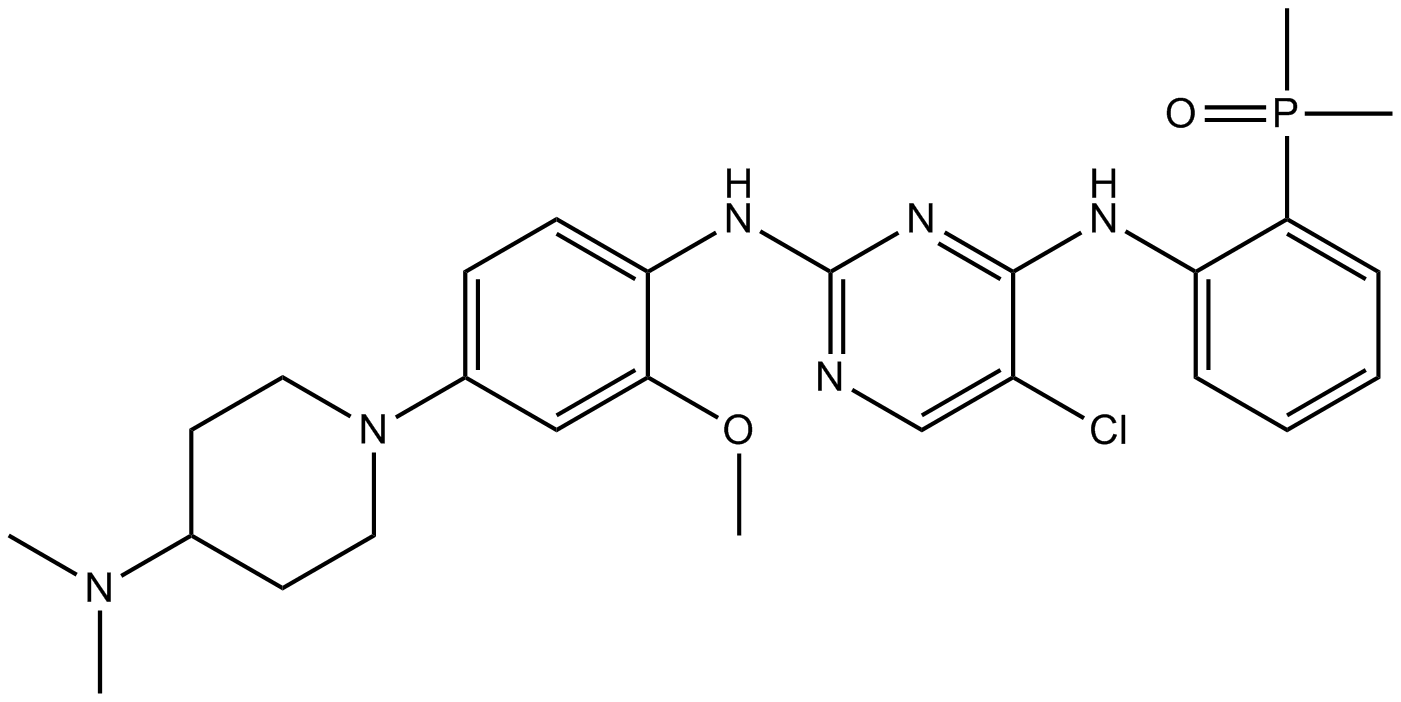 相关生物数据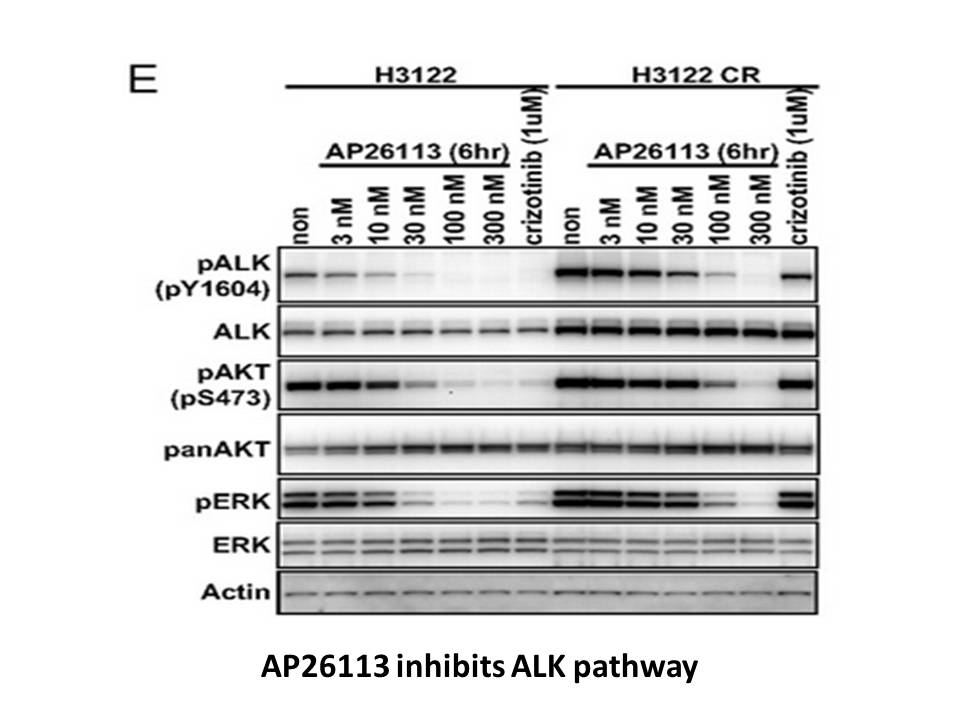 化学性质
CAS号
1197958-12-5
SDF
Download SDF
别名
Brigatinib
化学名
5-chloro-2-N-[4-[4-(dimethylamino)piperidin-1-yl]-2-methoxyphenyl]-4-N-(2-dimethylphosphorylphenyl)pyrimidine-2,4-diamine
SMILES
CN(C)C1CCN(CC1)C2=CC(=C(C=C2)NC3=NC=C(C(=N3)NC4=CC=CC=C4P(=O)(C)C)Cl)OC
分子式
C26H34ClN6O2P
分子量

529.01

溶解度
≥26.45mg/mL in DMSO
储存条件
Store at -20°C
物理性状
A solid
运输条件
试用装:蓝冰运输。
其他可选规格:常温运输或根据您的要求用蓝冰运输。
一般建议
为了使其更好的溶解,请用37℃加热试管并在超声波水浴中震动片刻。不同厂家不同批次产品溶解度各有差异,仅做参考。若实验所需浓度过大至产品溶解极限,请添加助溶剂助溶或自行调整浓度。
生物活性
Description
AP26113 is a potent inhibitor of ALK with IC50 of 0.62 nM.
Targets
ALK
FER
ROS/ROS1
FLT3
FES/FPS
IC50
0.62 nM
1.3 nM
1.9 nM
2.1 nM
3.4 nM
产品描述
AP26113是一种新型的、合成的间变性淋巴瘤激酶(ALK)口服小分子抑制剂,IC50(最大半数抑制浓度)范围为5 nmol/l至11 nmol/l,ALK是胰岛素受体超家族的受体酪氨酸激酶。AP26113也能够抑制ALK酪氨酸激酶突变L1196M,IC50为15 nmol/l 至45 nmol/L、抑制表皮生长因子受体(EGFR)突变体T790M突变和c-ros的癌基因1(ROS1)。而且,AP26113在含野生型或突变型EML4-ALK的H3122细胞(敏感的和抗性的)和Ba / F3细胞(IC50分别为10 nM和24 nM)中也具有活性。
参考文献:
[1]Solomon B, Wilner KD, Shaw AT. Current status of targeted therapy for anaplastic lymphoma kinase-rearranged non-small cell lung cancer. Clin Pharmacol Ther. 2014 Jan;95(1):15-23. doi: 10.1038/clpt.2013.200. Epub 2013 Oct 3.
[2]Katayama R1, Khan TM, Benes C, Lifshits E, Ebi H, Rivera VM, Shakespeare WC, Iafrate AJ, Engelman JA, Shaw AT. Therapeutic strategies to overcome crizotinib resistance in non-small cell lung cancers harboring the fusion oncogene EML4-ALK. Proc Natl Acad Sci U S A. 2011 May 3;108(18):7535-40. doi: 10.1073/pnas.1019559108. Epub 2011 Apr 18.