DiscoveryProbe™ MAPK Signaling Pathway Compounds Panel
Sample solution is provided at 25 µL, 10mM.
Click and Customize the Panel
with your own choices of compounds/size/qtuanties/chemical forms etc.
HTS Facility Partners
质量控制
Related Biological Data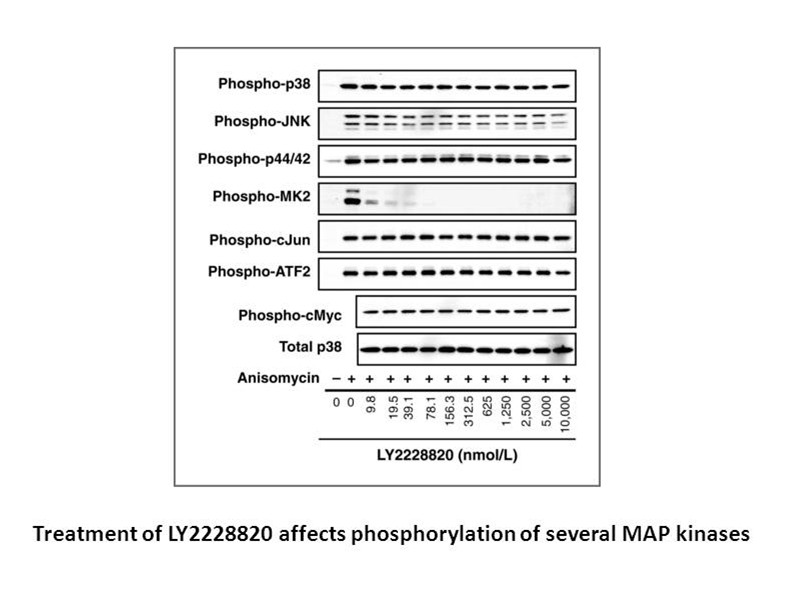 Related Biological Data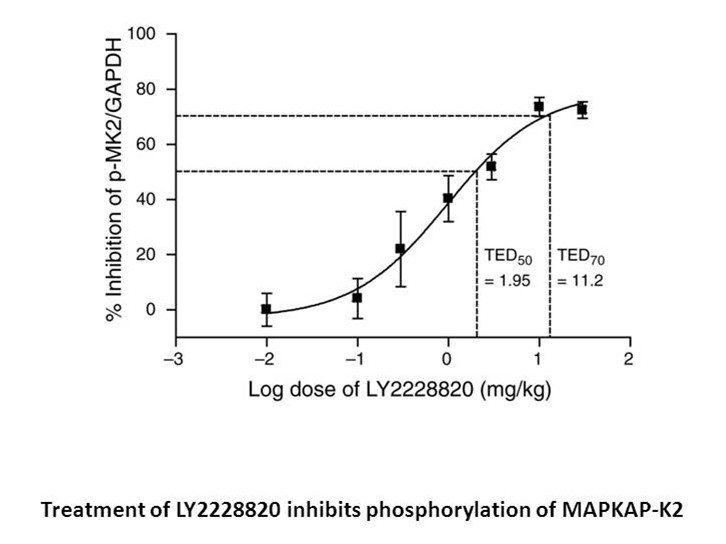 Related Biological Data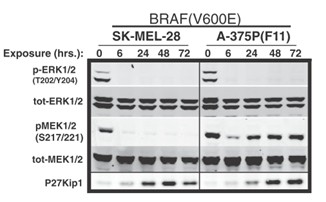 GSK1120212 causes sustained inhibition of ERK1/2 phosphorylation, and differential effects on MEK phosphorylation. SK-MEL-28 and A-375P(F11) (BRAF-mutant) cell lines were treated with 250 nmol/L GSK1120212 (Trametinib) and harvested at the indicated time points.
Related Biological Data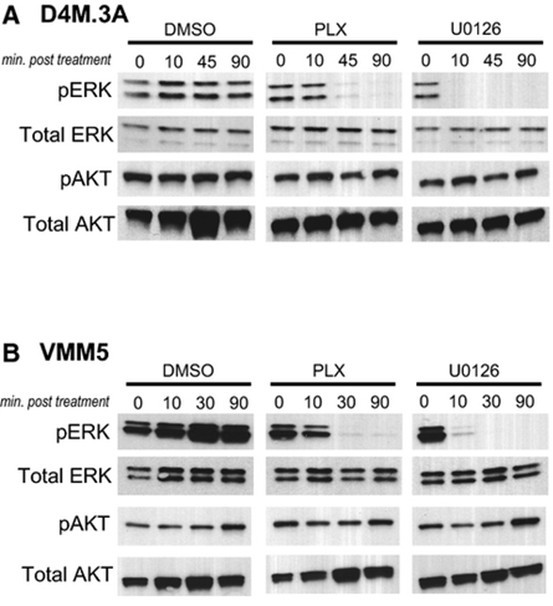 PLX4032 decreases pERK levels and inhibits growth of D4M cells. (A, B) Immunoblots of 2.5 μg of protein lysate for pERK or pAKT from (A) D4M.3A and (B) VMM5 cells, treated with DMSO, 3 μM PLX4032, or 10 μM U0126 over a time course (minutes post-treatment). Total ERK and total AKT were used as loading controls.
Related Biological Data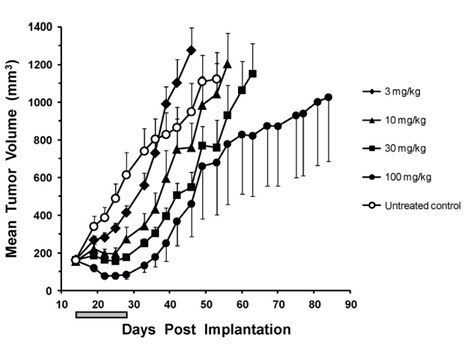 Growth of Colo 205 tumor xenografts was measured in mice during and for a period following oral q.d. x 14 treatment with 0, 3, 10, 30, and 100 mg/kg dabrafenib. Mean tumor volumes are plotted with their standard error mean and 4 partial regressions out of 8 mice were observed at the 100 mg/kg dose after the 14-day treatment period. The 14-day period of dosing is indicated by the shaded gray bar.
Compound Panel Contents
Catalog No.
Product Name
Summary
Targets
CAS Number
Smiles
A3943
XMD8-92
BMK1/ERK5 inhibitor,highly selective
MAPK Signaling|ERK
1234480-50-2
CCOC1=C(C=CC(=C1)N2CCC(CC2)O)NC3=NC=C4C(=N3)N(C5=CC=CC=C5C(=O)N4C)C
A3519
JNK-IN-7
Selective JNK inhibitor
MAPK Signaling|JNK
1408064-71-0
CN(C)CC=CC(=O)NC1=CC=CC(=C1)C(=O)NC2=CC=C(C=C2)NC3=NC=CC(=N3)C4=CN=CC=C4
A1947
MEK162 (ARRY-162, ARRY-438162)
MEK1/2 inhibitor,potent and selective
MAPK Signaling|MEK1/2
606143-89-9
CN1C=NC2=C1C=C(C(=C2F)NC3=C(C=C(C=C3)Br)F)C(=O)NOCCO
A3004
Vemurafenib (PLX4032, RG7204)
BRAF kinase inhibitor
MAPK Signaling|MEK1/2
918504-65-1
CCCS(=O)(=O)NC1=C(C(=C(C=C1)F)C(=O)C2=CNC3=NC=C(C=C23)C4=CC=C(C=C4)Cl)F
A3805
SCH772984
Novel ERK1 and ERK2 inhibitor
MAPK Signaling|MEK1/2
942183-80-4
C1CN(CC1C(=O)NC2=CC3=C(C=C2)NN=C3C4=CC=NC=C4)CC(=O)N5CCN(CC5)C6=CC=C(C=C6)C7=NC=CC=N7
A5801
BIX 02189
Selective MEK5 inhibitor
MAPK Signaling|MEK1/2
1094614-85-3
CN(C)CC1=CC(=CC=C1)NC(=C2C3=C(C=C(C=C3)C(=O)N(C)C)NC2=O)C4=CC=CC=C4
Download the MAPK Signaling Pathway Compounds Panel - XLSX Download the MAPK Signaling Pathway Compounds Panel - SDF
Advantages
Available in stock with overnight delivery and free shipping over $500
Cost-effective and competitive price to save your findings
Potent, selective and cell-permeable in inhibiting or activating target molecules
Diverse in chemical structure and route of administration (oral/i.m/i.v injection etc.)
Detailed files describing potency, selectivity and applications etc.
Supported by published data from top peer-reviewed journals
Guaranteed high quality with NMR and HPLC validation
Storage and Shipping Information
Solubility
Soluble in DMSO
Storage
Desiccate at -20°C
Packaging
96 well plate
Form
Powder
General tips
For obtaining a higher solubility , please warm the tube at 37°C and shake it in the ultrasonic bath for a while.Stock solution can be stored below -20°C for several months.
Shipping Condition
Evaluation sample solution : ship with blue ice
All other available size: ship with RT , or blue ice upon request
产品描述
A wide range of well-characterized bioactive molecules that covers various targets on the MAPK signaling pathway, including MEK1/2, p38 and Raf etc. Facilitate your research towards the insights of cell proliferation, differentiation, apoptosis and motility etc. Applicable in cellular assays, animal models and drug screenings etc.
References
1. Plotnikov A, Zehorai E, Procaccia S, Seger R. The MAPK cascades: signaling components, nuclear roles and mechanisms of nuclear translocation. Biochim Biophys Acta. 2011 Sep;1813(9):1619-33.
Abstract
The MAPK cascades are central signaling pathways that regulate a wide variety of stimulated cellular processes, including proliferation, differentiation, apoptosis and stress response. In this review, we briefly cover the composition of the MAPK cascades, as well as their physiological and pathological functions. The nuclear translocation of signaling components may emerge as an important regulatory layer in the induction of cellular processes, and therefore, may serve as targets for therapeutic intervention in signaling-related diseases such as cancer and diabetes.