Melanocyte stimulating hormone release inhibiting factor
促黑素释放抑制因子
Sample solution is provided at 25 µL, 10mM.
质量控制
化学结构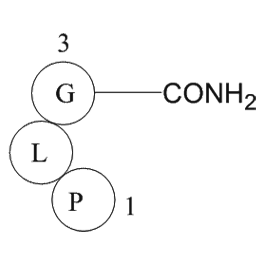 化学性质
CAS号
2002-44-0
SDF
Download SDF
别名
Pro-Leu-Gly
化学名
(2S)-N-[(2S)-1-[(2-amino-2-oxoethyl)amino]-4-methyl-1-oxopentan-2-yl]pyrrolidine-2-carboxamide
SMILES
CC(C)CC(C(=O)NCC(=O)N)NC(=O)C1CCCN1
分子式
C13H24N4O3
分子量

284.36

溶解度
≥59.1mg/mL in DMSO
储存条件
Desiccate at -20°C
物理性状
A solid
运输条件
试用装:蓝冰运输。
其他可选规格:常温运输或根据您的要求用蓝冰运输。
一般建议
为了使其更好的溶解,请用37℃加热试管并在超声波水浴中震动片刻。不同厂家不同批次产品溶解度各有差异,仅做参考。若实验所需浓度过大至产品溶解极限,请添加助溶剂助溶或自行调整浓度。
产品描述
促黑素释放抑制因子的化学式为C13H24N4O3,是一个三肽,氨基酸序列为H2N-Pro-Leu-Gly-amide,分子量为284.35。促黑素释放抑制因子也被称为Pro-Leu-Gly-NH2、Melanostatin、MSH释放抑制激素或MIF-1,是来源于催产素裂解的内源性多肽片段,在体内通常发挥多种不同的活性(1)。MIF-1产生多种效果,例如阻断阿片受体激活的效应(2)、充当D2和D4多巴胺受体亚型的正向变构调节剂、抑制其他神经肽如α-MSH的释放和增强褪黑素活性(3)。MIF-1对血液代谢具有抗性,可以轻易穿过血脑屏障,它的口服活性较差,通常采用注射的方式用药。
Figure1 Formula of Melanocyte stimulating hormone release inhibiting factor
参考文献:
1. Celis ME, Taleisnik S, Walter R (July 1971). "Regulation of formation and proposed structure of the factor inhibiting the release of melanocyte-stimulating hormone". Proceedings of the National Academy of Sciences of the United States of America 68 (7): 1428–33.
2. Contreras PC, Takemori AE (June 1984). "Effect of prolyl-leucyl-glycinamide and alpha-melanocyte-stimulating hormone on levorphanol-induced analgesia, tolerance and dependence". Life Sciences 34 (26): 2559–66.
3. Sandyk R (May 1990). "MIF-induced augmentation of melatonin functions: possible relevance to mechanisms of action of MIF-1 inmovement disorders". The International Journal of Neuroscience 52 (1-2): 59–65.