质量控制
化学结构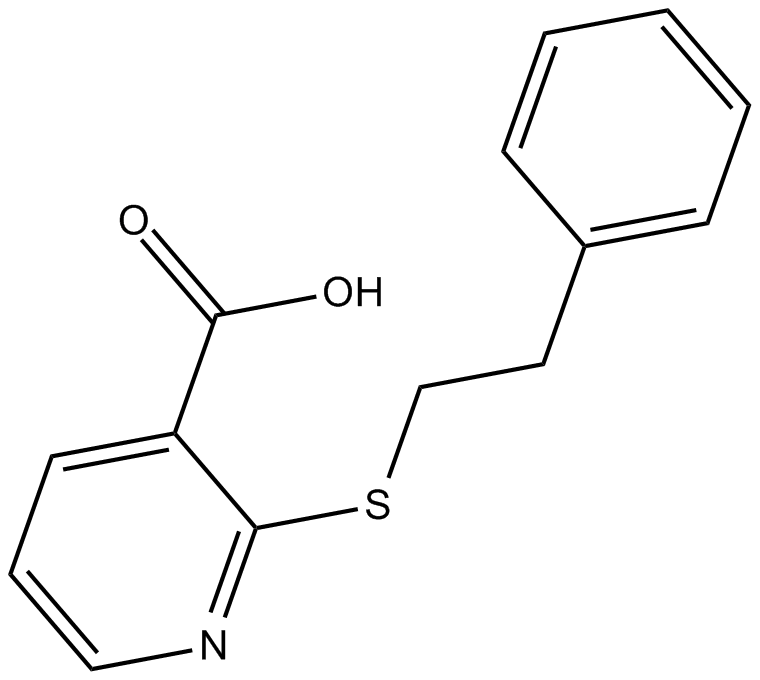 化学性质
CAS号
496775-95-2
SDF
Download SDF
别名
CID-888706
化学名
2-[(2-phenylethyl)thio]-3-pyridinecarboxylic acid
SMILES
OC(C1=CC=CN=C1SCCC2=CC=CC=C2)=O
分子式
C14H13NO2S
分子量

259.3

溶解度
≤10mg/ml in DMSO
储存条件
Store at -20°C
物理性状
A crystalline solid
运输条件
试用装:蓝冰运输。
其他可选规格:常温运输或根据您的要求用蓝冰运输。
一般建议
为了使其更好的溶解,请用37℃加热试管并在超声波水浴中震动片刻。不同厂家不同批次产品溶解度各有差异,仅做参考。若实验所需浓度过大至产品溶解极限,请添加助溶剂助溶或自行调整浓度。
产品描述
ML-099 is a small molecule pan activator of Ras-related GTPases.
The Ras-related GTPases contain over 50 members, including the Arf, Rho, Ras, and Rab GTPase subfamilies. The Ras-related GTPases behave as molecular switches with an active form (GTP-bound) and an inactive form (GDP-bound) conformation. It has been reported that the Ras-related GTPases have been involved in regulating a variety of cellular processes ranging from membrane trafficking to the control of cell proliferation. Abberant mutations in the small guanosinetriphosphatases (GTPases) may result in disease either through aberrant activation or through loss of function or diminished acitivity [1].
ML-099 activated Rac1, cell division cycle 42 activated mutant, cell division cycle 42, Ras protein (WT) , Rab-2A, GTP-binding protein with the EC50 values of 20, 58.8, 100, 141, and 355, and 181.97 nM, respectively [1].
Reference:
[1] Surviladze Z, Ursu O, Miscioscia F, et al. Three small molecule pan activator families of Ras-related GTPases[J]. 2010.