质量控制
Quality Control & MSDS
批次:
Chemical structure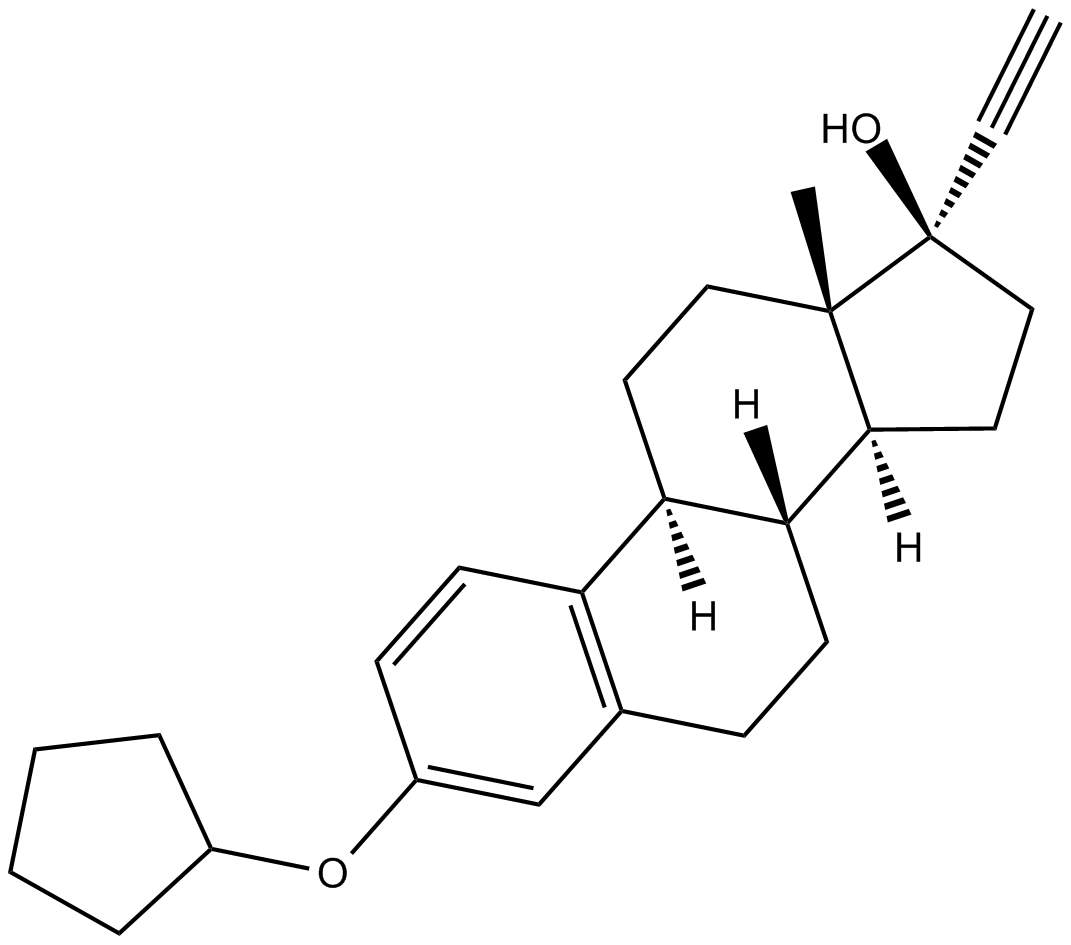 化学性质
CAS号
152-43-2
SDF
Download SDF
别名
Estrovis®,Ethynyl Estradiol-3-cyclopentyl ether,W 3566
化学名
3-(cyclopentyloxy)-19-norpregna-1,3,5(10)-trien-20-yn-17α-ol
SMILES
C[C@@]12[C@@]([H])(CC[C@@]2(O)C#C)[C@]([C@]3([H])CC1)([H])CCC4=C3C=CC(OC5CCCC5)=C4
分子式
C25H32O2
分子量

364.5

溶解度
≥12.15mg/mL in DMSO
储存条件
Store at -20°C
运输条件
试用装:蓝冰运输。
其他可选规格:常温运输或根据您的要求用蓝冰运输。
一般建议
为了使其更好的溶解,请用37℃加热试管并在超声波水浴中震动片刻。不同厂家不同批次产品溶解度各有差异,仅做参考。若实验所需浓度过大至产品溶解极限,请添加助溶剂助溶或自行调整浓度。
产品描述
Quinestrol is a synthetic estrogen that is effective in hormone replacement therapy after the menopause [1][2].
Estrogen has extraordinarily complex biological effects in diverse tissues such as skeletal, urogenital, digestive, cardiovascular, ocular and nervous systems. Apart from estrogens, selective estrogen receptor modulators may be used for prevention of some of the long-term consequences of estrogen deficiency [2].
Quinestrol is 3-cyclopentyl ether of ethynyl estradiol. After gastrointestinal absorption, Quinestrol is stored in adipose tissue, where it is slowly released and metabolized in the liver to its active form, ethinyl estradiol.
In adult male mice, quinestrol reduced sperm counts and increased the number of abnormal spermatozoa. Quinestrol stimulated oxidative stress to induce apoptosis in spermatogenic cells through the mitochondrial and death receptor pathways [3]. In adult male rat, quinestrol significantly increased the number of germ cells expressing caspase-3, Bax, Fas and FasL, and reduced the number of cells expressing Bcl-2 and PCNA. These results suggested that quinestrol induced abnormal spermatogenesis through the mitochondrial- and Fas-L-mediated pathways [4].
References:
[1]. Baumgardner SB, Condrea H, Daane TA, et al. Replacement estrogen therapy for menopausal vasomotor flushes. Comparison of quinestrol and conjugated estrogens. Obstet Gynecol. 1978 Apr;51(4):445-52.
[2]. Skouby, S.O. Criteria for the selection of an optimal estrogen replacement. Gynecological Endocrinology 15, 60-67 (2001).
[3]. Li J, Chen F, Li C,et al. Quinestrol induces spermatogenic apoptosis in vivo via increasing pro-apoptotic proteins in adult male mice. Tissue Cell. 2014 Oct;46(5):318-25.
[4]. Li J, Chen F, Chen Y, et al. Mitochondrial- and Fas-L-mediated pathways involved in quinestrol induced spermatogenic apoptosis in adult rat testes. Toxicol Mech Methods. 2014 Dec;24(9):609-15.