Varlitinib (ARRY334543)
ErbB抑制剂
Sample solution is provided at 25 µL, 10mM.
质量控制
化学结构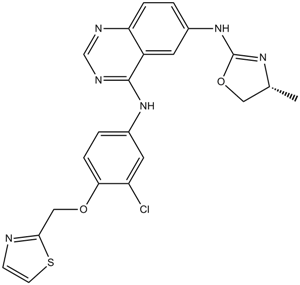 化学性质
CAS号
845272-21-1
SDF
Download SDF
别名
ARRY-334543; ARRY 334543
化学名
4-N-[3-chloro-4-(1,3-thiazol-2-ylmethoxy)phenyl]-6-N-[(4R)-4-methyl-4,5-dihydro-1,3-oxazol-2-yl]quinazoline-4,6-diamine
SMILES
CC1COC(=N1)NC2=CC3=C(C=C2)N=CN=C3NC4=CC(=C(C=C4)OCC5=NC=CS5)Cl
分子式
C22H19ClN6O2S
分子量

466.94

溶解度
≥23.35mg/mL in DMSO
储存条件
Store at -20°C
运输条件
试用装:蓝冰运输。
其他可选规格:常温运输或根据您的要求用蓝冰运输。
一般建议
为了使其更好的溶解,请用37℃加热试管并在超声波水浴中震动片刻。不同厂家不同批次产品溶解度各有差异,仅做参考。若实验所需浓度过大至产品溶解极限,请添加助溶剂助溶或自行调整浓度。
生物活性
Description
Varlitinib is a selective and potent inhibitor of ErbB1(EGFR) and ErbB2(HER2) with IC50 values of 7 nM and 2 nM, respectively.
Targets
ErbB2
ErbB1
IC50
2 nM
7 nM
产品描述
Varlitinib is an orally bioavailable inhibitor of the epidermal growth factor receptor family with potential antineoplastic activity. Varlitinib selectively and reversibly binds to both EGFR (ErbB-1) and Her-2/neu (ErbB-2) and prevents their phosphorylation and activation, which may result in inhibition of the associated signal transduction pathways, inhibition of cellular proliferation and cell death. EGFR and Her-2 play important roles in cell proliferation and differentiation and are upregulated in various human tumor cell types. Due to the dual inhibition of both EGFR and Her-2, this agent may be therapeutically more effective than agents that inhibit EGFR or Her-2 alone.